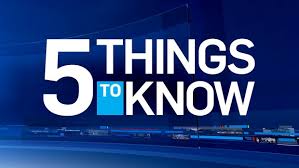 A multi-billion dollar bid to create a global trading power, a Hong Kong activist abroad and the prospect of the U.S. easing sanctions on Iran. Here are some of the things people in markets are talking about today.
Exchange Bid
Hong Kong Exchanges & Clearing's surprise $36.6 billion bid for London Stock Exchange Group faces serious political hurdles, and may even spark a bidding war, market participants say. LSE shares jumped 16% on Wednesday following the announcement before gains pared to about 5% in the early afternoon, reflecting skepticism that a deal can be done in the face of unrest in Hong Kong and potential concern over Chinese ownership. For HKEX, the bet on London promises a base away from the increasingly fraught political climate at home. An HKEX-LSE pact would create a global trading power that would have stock, derivatives and commodities exchanges, as well as clearinghouses across two continents.
Easing Up on Iran
Trump discussed easing sanctions on Iran to help secure a meeting with Iranian President Hassan Rouhani later this month, prompting then-National Security Advisor John Bolton to argue forcefully against such a step, according to three people familiar with the matter. The White House has started preparations for Trump to meet with Rouhani on the sidelines of the annual United Nations General Assembly in New York during the week of Sept. 23, although it's far from clear if the Iranians would agree to talks while tough American sanctions remain in place. Trump sitting down with Iranian leaders — should it actually happen — would break more than four decades of U.S. policy. Bolton's ouster on Tuesday improves the odds of a meeting.