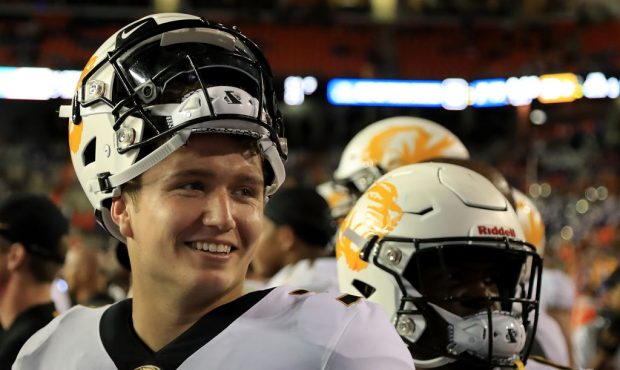 The Broncos were able to select Missouri quarterback Drew Lock in the second round of the 2019 NFL Draft. He could develop into the team's franchise quarterback if he plays up to his potential.
But "if" is the key word there. Because Lock is not without his flaws.
He's got to clean up his footwork in order to be the best passer he can be in terms of pass placement and touch. Lock also has to have a more consistent release point when he gets rid of the ball. He can make sidearm throws on the run, but he needs to do that when it's necessary and not just randomly as it appears at times on film.
That's not to say that Lock has elite level skill in certain parts of his game. He certainly does.
His arm strength is the first thing that stands out when watching him throw. He can zip the ball 70 yards down the field effortlessly. The ball comes out of hand quick and Lock can throw off his back foot while still fitting passes into tight windows. Working out in practice now with the Broncos, Lock feels good about his arm.
"My arm is definitely in good shape," Lock said. "When I take a break and come back and throw, my arm will hurt. But if I constantly throw, I'll stay in good shape for a long time. That's what I was doing when I was back home, throwing with my quarterback coach Justin Hoover and getting me ready to come out here. It feels pretty fresh right now."
Arm strength is what most anyone wants to discuss when talking about Lock. However, there are parts of Lock's game that are underrated and more people need to know about it. Let's take a look at the things Lock does best – that nobody talks about – and how that can greatly help him as a pro.
Cool Under Fire
Lock is going to make mistakes, but the good thing is that he's not timid after a play doesn't go his way. I saw this several times on film during his college days at Missouri, and that has already showed up at Broncos OTAs this week.
On Monday, Lock fired a pass to the middle of the field that was picked off by rookie linebacker Josh Watson. It was a play that Lock felt he could make. His arm strength gives him an advantage, as he can fit passes into the smallest windows and that must've been what he was thinking about that play.
Instead, the defender picked him off and the offense lost momentum.
The offense stayed out there because it was practice and a few plays later, Lock made almost the same exact throw to the same exact spot on the field. Instead of the linebacker getting his hands on the rock, Lock was able to fit the pass into a tight window and showed no hesitancy of going back to the well, so to speak.
This is a great talent to have. I've seen too many quarterback (**cough** Case Keenum **cough** Trevor Siemian **cough**) that make a mistake and then never want to make that type of throw again. Too often, a quarterback will throw an interception and then start checking the ball down to safe, short throws.
Lock isn't like that. He'll keep firing even after making a bad throw and that's a good sign for his future. He's not going to be perfect, but he's going to keep going after a defense.
***
Instant Aggression
It doesn't take much for Lock to get into "attack" mode as a passer. Looking at his film in college, it was easy to see that Lock came out firing.
In 2018, Lock had 28 passing touchdowns, 17 of which came in the first half of his games. Of those touchdowns, 14 of them came on first down.
Lock is tremendously aggressive as a passer. He wants to come out and set a tone early with his arm. Lock doesn't need another part of the offense to set him up; he wants to lead the way with the passing game.
This mindset is a double-edged sword.
Lock is going to be aggressive on the field, but he has the show some patience off of it. He's currently behind Joe Flacco and is looked at as the potential future franchise quarterback of the Broncos. There is zero quarterback controversy for the Broncos this year as Flacco looks light years ahead of any other passer on the field during OTAs. Lock knows he has a lot to learn.