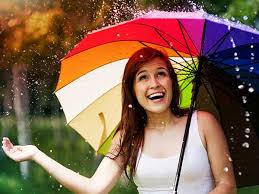 The state of your skin is never constant. The external conditions – pollutants, dirt, grime, and changing weather – play a major role in how your skin feels or behaves. You might be born with a certain type of skin, but over the course of time, weather changes can aggravate a skin condition or change its texture. So, one needs to examine his/her current skincare regimen and adjust it to meet the skin's ever changing needs based on shifts in climate and sun levels.
Once you start recording how your skin reacts to the changing weather, you will naturally be in sync and treat your skin accordingly. Just some minor changes in your face washes, cleansers, moisturizer, and sun protection products will help keep your skin perfect and glowing round the year without any special skincare treatments.
Who doesn't enjoy a cup of hot steaming coffee as the rain lashes around, cooling and cleaning everything! Monsoon brings such a sense of freshness. But I cannot say the same for the skin. Monsoon also brings with it a series of skin woes for many – open pores, dull skin, and infection along the body folds. A bit of moisture is good, but a lot is not. Your skin might feel hot and humid since the pores remain open from summer months and can get further aggravated. Acne and infection along the body folds can also occur. Read More..