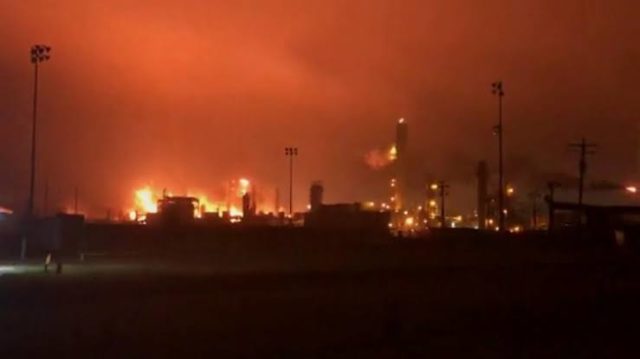 A huge explosion early Wednesday has injured three people at a Texas chemical plant, and the strength of the blast shattered windows and damaged doors of nearby homes, startling sleeping residents.
After dark smoke billowed for hours from the plant after the 1 a.m. blast, another large explosion ripped through the plant in the early afternoon, sending up a huge ball of fire.
Residents within a half mile of the petrochemical plant were under a mandatory evacuation order Wednesday morning, and the Port Neches Fire Department encouraged everyone downwind of the smoke to shelter in place.
The Texas Commission on Environmental Quality said it was responding to the initial explosion and is conducting handheld air monitoring. It said in a statement that the explosion "is causing the release of chemicals called volatile organic compounds." In high concentrations, these can "cause eye, nose, and throat irritation, shortness of breath, headaches, and nausea."
Area residents were working to clean up the mess on Wednesday.
"We had some windows blow out and there are quite a few other places dealing with it, but not everyone," Avenue Coffee Cafe co-owner David Pool told the Houston Chronicle while cleaning up damage. "The tenant closest to the explosion is perfectly fine."