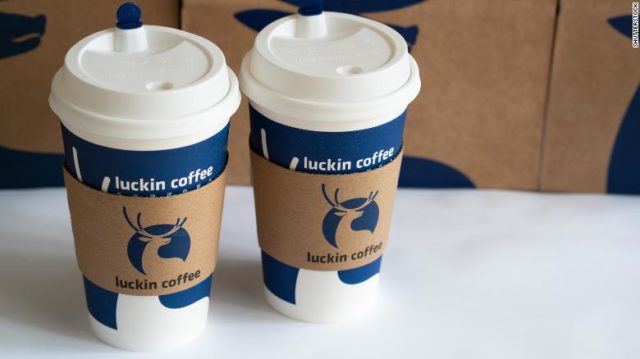 China's Starbucks has arrived on Wall Street. Luckin Coffee begin trading on Friday and provided an immediate caffeine jolt to the market. The stock surged nearly 50% to $25 a share before pulling back a bit. Shares were up 25% in midday trading.
Luckin Coffee, which is growing rapidly thanks to a focus on cheaper drinks, priced its initial public offering on the Nasdaq at $17 a share. That was at the high end of its range and it values Luckin Coffee (
LK
) at more than $4 billion. Luckin raised more than $570 million from the stock sale.
Luckin Coffee has quickly taken China by storm. The company, which was founded in October 2017, already has nearly 2,400 stores in 28 cities. That makes it second only to Starbucks(
SBUX
) in China.
But Luckin Coffee is likely to soon pass its larger rival. Luckin Coffee has plans to open 2,000 additional stores in the country by the end of the year, bringing its total to about 4,500 locations.
It's an ambitious goal, especially since Chinese consumers aren't addicted to coffee as much as drinkers in the United States and other nations are. Tea is the beverage of choice.
Taking China by storm with cheaper coffee
Luckin Coffee cited data from consumer research firm Frost & Sullivan in its IPO filing with the Securities and Exchange Commission that showed Chinese consumers drank only six cups of coffee a year in 2018, compared to 279 for Japan, 388 in the US and a whopping 867 in Germany.
But Luckin Coffee is hoping that the popularity of Starbucks in China, coupled with Luckin Coffee's plans to offer less expensive brews, will quickly create more coffee drinkers in mainland China.
After all, Frost & Sullivan said that consumers in nearby Taiwan and Hong Kong each drink more than 200 cups of coffee a year.
Still, Luckin Coffee is tiny compared to Starbucks, which plans to expand even further in China as the US market matures. And like many other startup firms that have recently gone public — including Lyft (
LYFT
), Uber(
UBER
), Pinterest (
PINS
) and Beyond Meat (
BYND
) — Luckin Coffee is bleeding red ink.
The company reported a net loss of $241.3 million last year on sales of just $125.3 million. Luckin Coffee lost another $82.2 million in the first quarter of 2019 on revenue of only $71.3 million.