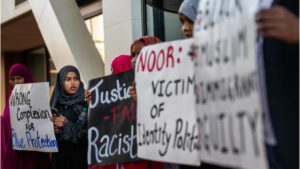 A former policeman in the US state of Minnesota has been sentenced to 12 years and six months in prison for fatally shooting an unarmed woman who was trying to report a possible crime.
Mohamed Noor shot Justine Ruszczyk Damond as she approached his patrol car to report a possible rape behind her Minneapolis home in July 2017.
He said the shooting was a mistake.
In court, Ms Damond's father, John Ruszczyk, called the killing "an obscene act by an agent of the state".
"Justine's death has left me incomplete – it is as if I have lost a limb or a leg," he said in an impact statement.